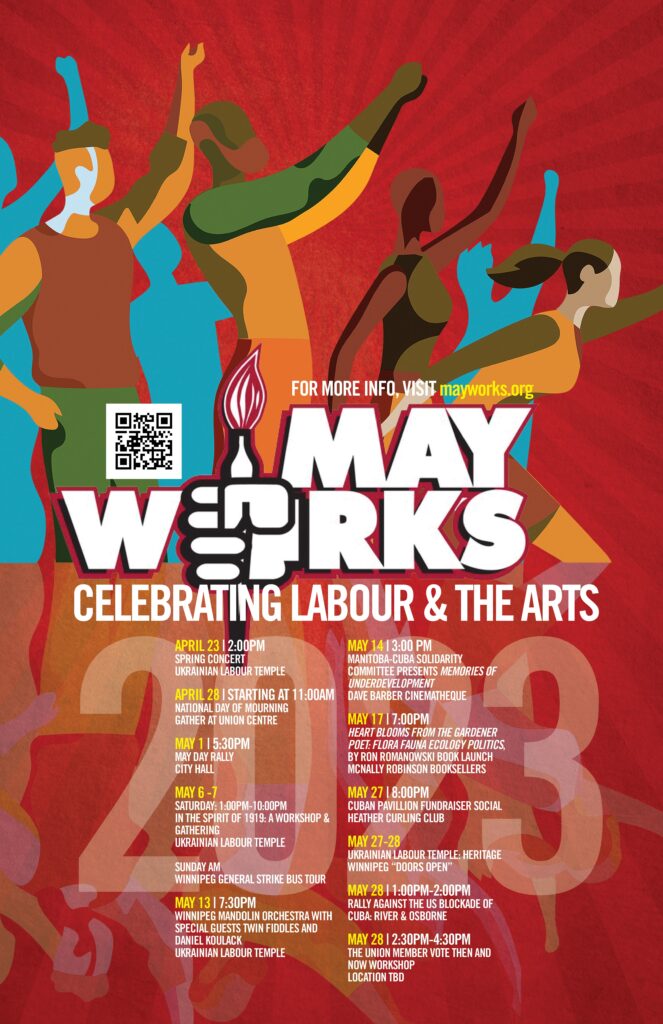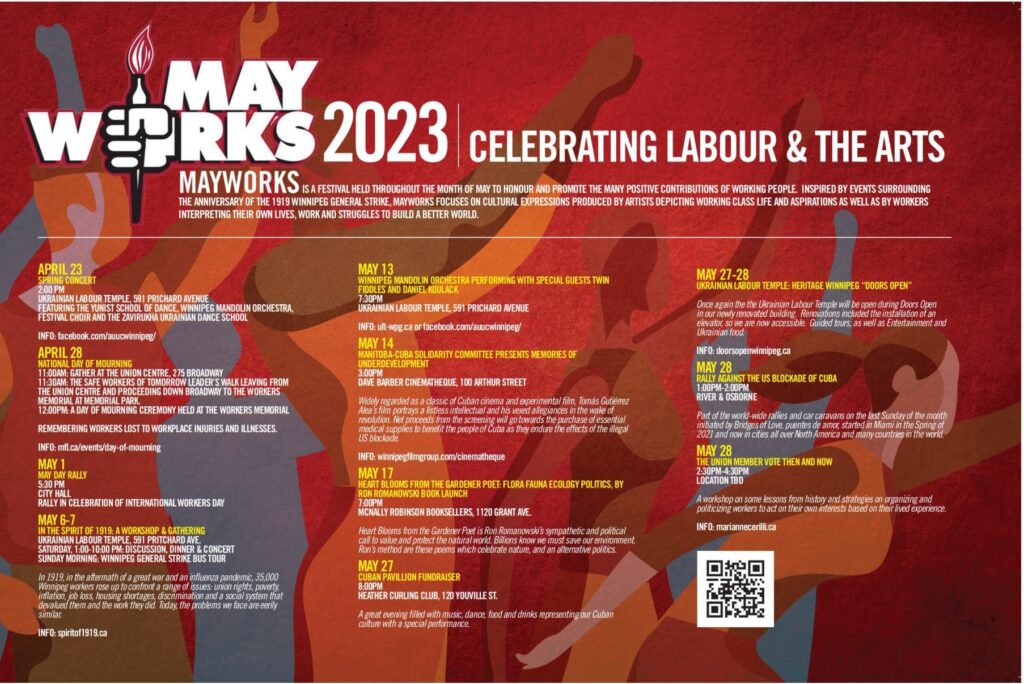 April 23, 2:00 PM
Spring Concert
Ukrainian Labour Temple

April 28, starting at 11:00 AM
National Day of Mourning
Union Centre

May 1, 5:30 PM
May Day Rally
City Hall

May 6 & 7
In the Spirit of 1919: A Workshop & Gathering
Ukrainian Labour Temple

May 13, 7:30 PM
Winnipeg Mandolin Orchestra with special guests Twin Fiddles and Daniel Koulack
Ukrainian Labour Temple

May 14, 3:00 PM
Manitoba-Cuba Solidarity Committee presents Memories of Underdevelopment
Dave Barber Cinematheque

May 17, 7:00 PM
Heart Blooms from the Gardener Poet: Flora Fauna Ecology Politics, Ron Romanawski book launch
McNally Robinson Booksellers

May 27, 8:00 PM
Cuban Pavillion Fundraiser Social
Heather Curling Club

May 27 & 28
Ukrainian Labour Temple: Heritage Winnipeg "Doors Open"
Ukrainian Labour Temple

May 28, 1:00 - 2:00 PM
Rally Against the US Blockade of Cuba
River & Osborne

May 28, 2:30 - 4:30 PM
The Union Member Vote Then and Now Workshop
2nd floor Portage Place units 229 or 233 - 393 Portage Ave. 
____________________________________________________
MayWorks 2022 is here! We look forward to celebrating with you this year. The theme this year is A Better World Is Possible – Building It Together
____________________________________________________
Thursday, April 28
Day of Mourning
Manitoba Federation of Labour/Safe Workers of Tomorrow
11 a.m. Gather at Union Centre
11:30 a.m. Safe Workers of Tomorrow Leaders' Walk
Noon: Ceremony at Memorial Park
Please join the Manitoba Federation of Labour in marking the National Day of Mourning. This year the official unveiling of the new Workers Memorial will take place
Friday, April 29
AL Café
Building Solidarity, Waging Peace
7 p.m. Ukrainian Labour Temple
591 Pritchard
Sponsors: Ethnorama News Winnipeg/Las Americas and Chilean Human Rights Council/Peace Alliance Winnipeg/Assoc. of United Ukrainian Canadians/Migrante Manitoba/Solidarity Committee for Ethiopian Political Prisoners/Philippine Advancement Through Arts and Culture. Co-sponsor: Councillor Jason Schreyer
With its origins in the progressive Chilean community, AL Café is Winnipeg's long standing evening of progressive politics and culture in a coffeehouse setting. The evening's theme is Building Solidarity, Waging Peace.
Artists: Victor Bustamante, Julius Eugenio, Christine Mazur, Daniel Tabo-Oy, Rubin Kantorovich, Jason Schreyer, Levy Abad, Nandita Selvanathan, Carolina Fuentes
Guest speakers: Leah Gazan – MP for Winnipeg Centre; Marianne Cerilli – Change Agent/ Community Activist
Sunday, May 1
May Day Rally
Celebrate International Working Class Day
A Better World is Possible – Building It Together
12 p.m.
City Hall
MayWorks and others
International Working Class Day will be celebrated with a rally at City Hall. It will feature speakers on the urgent issues facing us – from the increasing erosion of social programs to climate change and the war – working people and their communities are organizing for change. May Day is the day to gather and renew the collective struggle for change.
Sunday, May 1
1919 VIRTUAL Brookside Cemetery Tour
12 p.m.
Winnipeg Labour Council
Due to snow and ice at Brookside Cemetery the tour is a virtual event alongside a Q & A session with Paul Moist. Tickets at eventbrite.ca
Other tours on the last Sunday of each month M ay through September. Register for tours by email to paulmoist@gmail.com
Sunday,May 1
'Whatever happened to the A-Zone' Reunion
2 p.m.
Old Market Square
Its been 10 years since we celebrated at the collective/co-operative purchase of 91 Albert – many of us have left the building, but has the building left us? Following the May Day rally join the reunion for a space that became home to many progressive, political events.
Sunday, May 8
Waiting for Lefty
3:00 to 4:30 p.m.
On-line presentation
Register at: jhcwc.org/programs
The Jewish Heritage Centre of Western Canada in partnership with United Jewish People's Order/UFCW Local 832/MayWorks
Waiting for Lefy, by Clifford Odets, first produced in 1935, is a play reading with commentary and discussion. It is the story of a meeting of a New York cab driver's union on the verge of a strike. The union's corrupt leader tries to discourage it, and the mysterious absence of left-leaning advocate, Lefty, doesn't bode well for the would be strikers.
Emcee: Harriet Zaidman
Commentary: Lionel Steinman and Paul Moist
Starring: Some of Winnipeg's finest actors
Saturday, May 28
Rally Against the U.S. Blockade of Cuba
1 p.m.
The Forks
Manaitoba Cuba Solidarity
Featuring speakers including youth just returned from the 28th Che Guevara Volunteer Work Brigade to Cuba during which they participated in the May Day events in Revolution Square in Havana as well as the International Solidarity Conference. The rally will also feature a cultural component.
For further information
manitobacubasolidarity@gmail.com
204 783 9380
Saturday, May 28
Sunday, May 30
Doors Open Ukrainian Labour Temple
591 Pritchard Avenue
11:00 a.m. to 5:00 p.m.
Tours from 12:00 p.m. to 4:00 p.m.
Free event
The Ukrainian Labour Temple is again proud to be part of Doors Open Winnipeg's annual look inside historic and unique structures.
The Ukrainian Labour Temple was constructed in 1918-1919 and had its official opening in February 1919. It is the only surviving Labour Hall associated with the events of the Winnipeg General Strike.
Come join us for some Ukrainian hospitality and entertainment. We will also be conducting some exciting guided tours of our 100 year old building…. opening some long closed rooms, poking into some dusty corners, and reviling some long lost secrets of this historic building with a somewhat controversial past history!
The Ukrainian Labour Temple holds heritage designations from all three levels of government. The building continues to be a vibrant centre for progressive culture and politics and remains a focal point for the Ukrainian community.